Course details
【Grill Course】 Choice from 9 kinds of Main! Appetizer, Dessert, Salad as you like!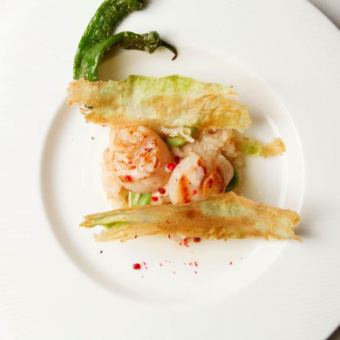 Reservation deadline

Visit of hope on the day until 21 pm
Available days for reservation

Monday - Sunday - Public holidays - Holidays
It is a course that you can enjoy buffet with grilled dishes as the main dish.Please choose the main dish from 9 types.
Course menu
■ Appetizer (Buffet menu example)
· Tanba chicken's riet
· Confectionery Cocktail
· Chicken sand liver and mushroom ahijo
· Daily bucket sands
· Odori ginseng with onion soup with plenty of Kujyo onion
· Tamba Highland Pork Pate de Campagne
· Spanish style seafood marinade with white wine vinegar
· Homemade made Focaccia Pizza Radi Ale
· Raccoon and Bacon's Quiche
· Salsa Tonnat of homemade ham
■ Salad (Buffet menu example)
· Caesar salad with Mibu
· Jewelry box of colorful petit tomato
· Roast Vegetable Basil Sauce
· Avocado Paste with Wakamore and Nacho Chip with Spicy Salsa
· Miso tasting of Kyoto vegetables Bagna cauda
· Bean sprout salad with Korean style garlic a little
■ Grill (Please choose from the following.)
· Atlantic salmon grill with bourr brand sauce basil flavored croutons
· Grilled mackerel EX virgin oil and balsamic vinegar sauce
· White wine sauce that made the red snapper Vermouth liquor and Saikyo miso effective
· Tailoring shellfish, shrimp, white fish, shallow rice, muffled beech base
· Cajun spice grill lobster sauce of omal shrimp
· Roasted wild chicken from Kyoto Honey vinegar sauce
· Grilled kimchi from Kyoto with tomato risotto
· Grilled Kyoto pork with seasonal hot vegetables and potato dishes
· Grilled beef loin Mash potatoes garlic ginger sausage awakening of inca
■ Dessert (Buffet menu example)
· Rich egg custard pudding
· Decoration muffins
· Adult coffee jelly
· Kyo Matcha and Kuzu's Black Honey Jelly
· Pulpur Annin tofu
· Matcha tiramisu
· Zipper Inglés which used Mix berries abundantly
· Daily fluffy chiffon cake
· Crispy Biscotti
2018/05/31 update